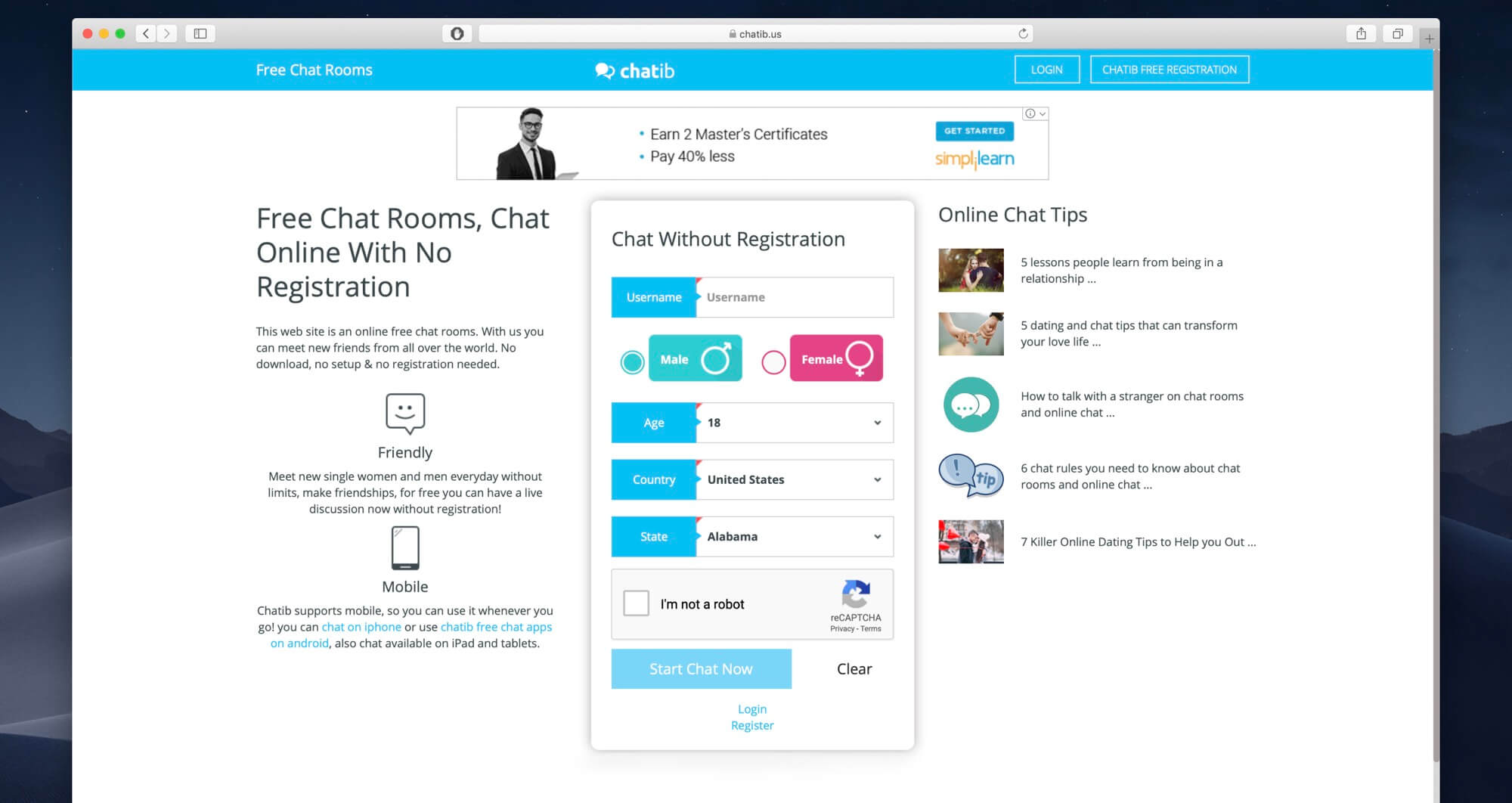 Chatib is an online free chat room to meet single women and men from all over the world anonymously. No download and no registration needed. The website has many different pre-made chat rooms available for users to join with users also having the option to create their own custom chatrooms, manage them, invite other users, and have fun in the chatrooms.
Chatib is easy to use and doesn't have any lengthy sign-up process. You just need to select a username, your age, and your country, enter the captcha and you're good to go. If you want then you can register an account and reserve a username that you will use permanently. The website is accessible on desktop and mobile, but only through a browser as it does not have a dedicated app available. Although the interface of the website is a bit outdated but works fine.
The notable feature of the website is that you can not only join different chatrooms, and create your own chatrooms but also chat with other users in private chats. So, this makes the chatrooms interesting as you will find different users there and you can chat with them in the chatrooms and also shift the conversation to private to talk more comfortably.
The website is completely anonymous and none of your personal or sensitive information is shared with anyone unless you share it yourself, which you shouldn't do so easily. When creating a temporary profile, you enter your username, age, gender, and country and that is the only information that is shared with other users by default. None of the other information is displayed.
Chatib has users from all over the world and there are different types of users. Some users are looking for fun while others are looking for some serious relationships and looking to meet new people online to date. You will not only find singles on there but also some couples who are looking for some casual fun.
To make the chats more fun and enjoyable, the website offers private messaging along with emojis and picture-sending features through which the chats become much more fun. The use of inappropriate language is strictly prohibited on the website and if someone is found using foul language then he may have his account terminated. You can also create your own chat rooms and invite other users to those rooms. Those chat rooms will be managed by you and you will have to take care of things in them.
It is a good platform, especially for those who are looking to meet new people of the same age from different parts of the world. It is also good for people who are looking to find new dates and some relationships. A good platform, overall. You will definitely find some interesting people to chat with on the website, you will also find some users who are singles and looking to date others while others are just there for fun.
| Information | |
| --- | --- |
| Developer | Chatib |
| Website | chatib.us |
| Launched | 2009 |
| Available in | English |
| Registration | Not Required |
| Platform | Web |
| Type of site | Online chat |
| Ratings | |