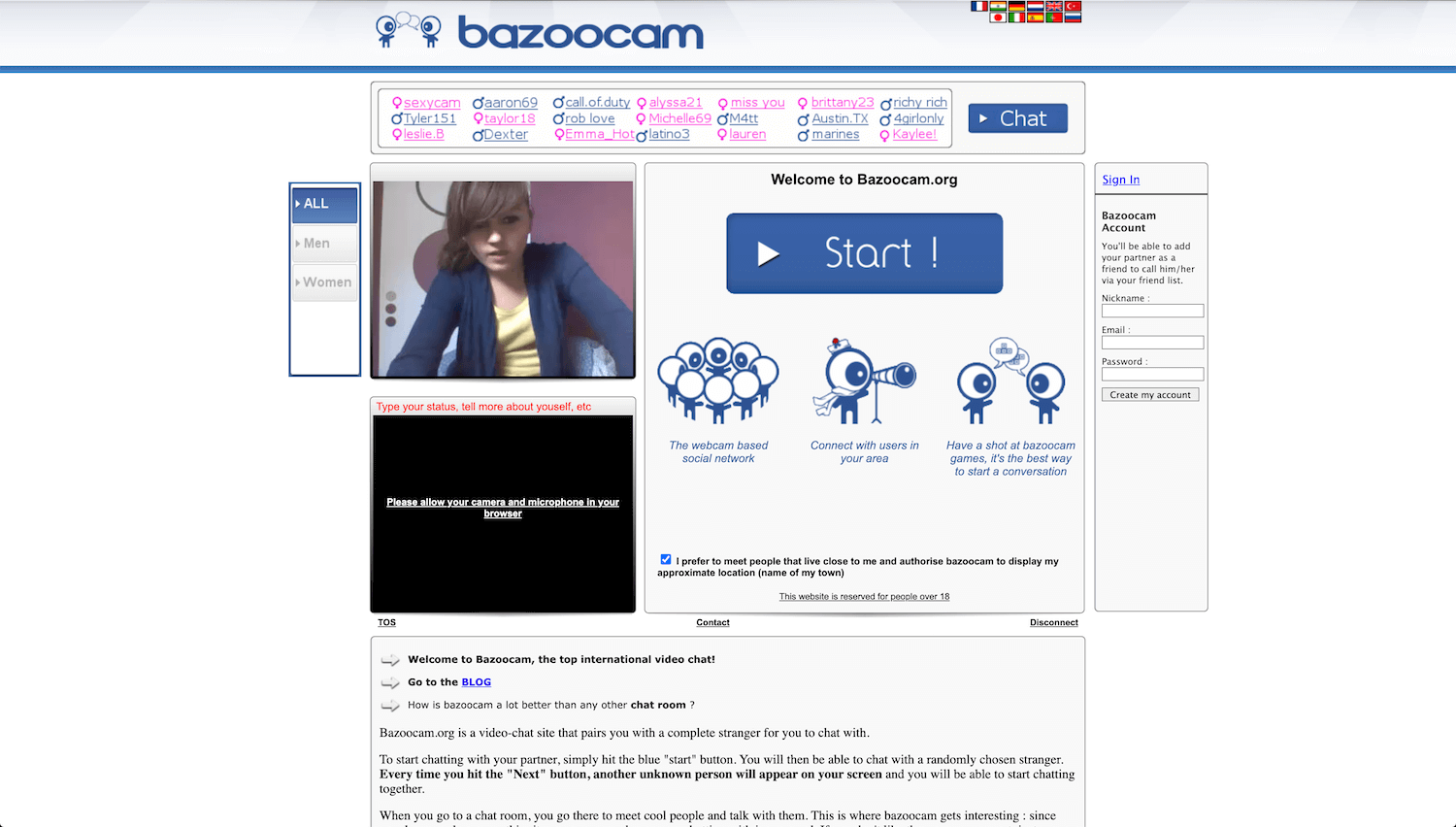 Bazoocam is the top international video chat website to meet and chat with strangers that live close to you. It is 100% free and doesn't require registration. Initiating a chat is very easy and you can start by just setting your nickname and gender. Once you set your username, you can instantly start chatting with other users. The website also lets you create an account in which you add other people as your friends. The website does not allow adult chats as it is clear in their terms and policy and if anyone is found doing any inappropriate activity then he is banned from the website.
Also, Bazoocam claims that there are moderators regularly on the website that look for any inappropriate behavior and the user(s) found breaking the rules will be banned from using the website. A feature that many users will like about Bazoocam is that it lets you choose your preferences and then connect to the users that match your preferences. It connects users on the basis of their location, experiences, and interest which makes it easier to meet other people that are looking for the same thing.
Another great feature that you won't probably find elsewhere is that you can connect and chat with people who are in your locality. This is a really useful feature because you get paired with users who are in your locality and if everything works out then you can actually meet them in-person. Games are also a feature that is unique to Bazoocam. You can play games such as Tetris, Tic Tac Toe, and 4 in a row with strangers along with video chatting with them. If you are bored while talking then you can always play different games with strangers to have a fun time.
Unlike some other video chatting platforms that offer more features to paid users and only limited features to free users, Bazoocam is absolutely free. You don't need to pay anything for using Bazoocam. You can use it and its features as long as you want to. This is a reason why users prefer Bazoocam over other websites because this website does not even cost you a penny for using it and you can enjoy all the features for free.
To summarize the experience of this website, this is a website where you will enjoy your visit. You can meet people that match your preferences and make friends and also meet lovers. The Bazoocam experience is a sensational one and different from the rest of other websites. There are so many different users to whom you can not only video chat but also text chat and games to make everything even more interesting and these are the unique features that you won't find elsewhere.
| Information | |
| --- | --- |
| Developer | Bazoocam |
| Launched | 2010 |
| Available in | English, Hindi, French, German, Turkish, Japanese, Italian, Spanish, Portuguese, Russian |
| Registration | Not Required |
| Platform | Web |
| Type of site | Online chat |
| Ratings | |